Featured Exhibitors
Featured Exhibitors at CreatedBy Festival 2019
BattleBots (As seen on TV!)
Saturday Only
Meet the Boston-area BattleBots, as seen on the Discovery Channel! Get a chance to see the 250lb machines up close and personal, and meet the builders and teams behind each of the bots, including Huge, SawBlaze, Valkyrie, Ribbot, Bloodsport, Uppercut, and Overhaul!
Brought to you with support from Artisan's Asylum and its members.
The Telephone Museum
Friday + Saturday
We encourage children to take apart old analog telephones to explore components and their functionality. We then compare 100 year old technology to today's semiconductor versions. The discovery leads to an understanding of Ohm's Law, the first law of electric theory.
Stonybrook Fine Arts
Friday + Saturday
Aluminum pour + cast! Participate by carving a pre-made sand/resin mold and we will fill it with molten aluminum.
Science Bob
Friday Night
Bob Pflugfelder a science teacher, author, maker, and presenter that knows how to share the world of science like never before. He is a regular guest on Jimmy Kimmel Live!, Live With Kelly and Ryan, The Dr. Oz Show, and Nickelodeon's Nicky, Ricky, Dicky and Dawn. His television appearances also include The Today Show, Hack My Life, Good Morning America, Home & Family and others. When he's not teaching, Bob can be found testing new ideas at Artisan's Asylum.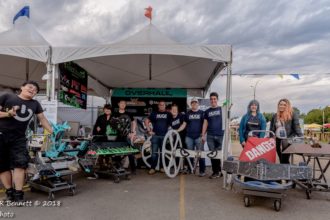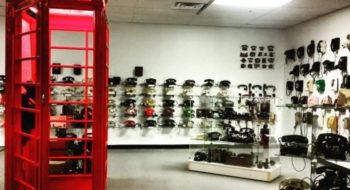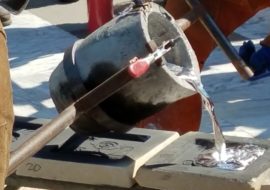 Len Solomon:
Saturday
Len Solomon presents a variety of instruments devised from plumbing parts, coat-hanger wire, and re-purposed salvage materials. Included is a foot-powered pipe organ, a squeeze-ball powered one-man-band, and other examples of Medieval music technology.
Empow Studios
Friday + Saturday
Showcasing STEM Enrichment. We will provide beta testing of video games created by students in our classes as well as showcasing our robotic designs that were also created by our students and allowing visitors to interact with the robot and see how it is run.
MassArt Fashion
Friday + Saturday
Massachusetts College of Art and Design will showcase the work of Fashion Design students- select designs on view from sophomores, juniors, and seniors.
Society of Women Engineers
Saturday Only
Bristlebots: Visitors can stop by our table to make a "bot" out of a toothbrush head, tiny vibration motor, coin cell battery and double sided tape.