Performer Schedule
Performances will be at the KidStage inside Boston Children's Museum, free with admission.
Ricardo Frota:
11:00 am, 12:00 pm
The "The Ecology of Sound," is an engaging multicultural musical performance with interactive playing and singing, mixing traditional rhythm instruments with instruments made from recycled and natural found objects.
Ideas, Not Theories:
1:00 pm
Ideas, Not Theories Bicycle Rock Band features rock music classic tunes arranged for 3 bicycles and an electric guitar. Expect to hear classic tunes from the 60's, 80's and 90's as well as some originals, all of them using bicycles as musical instruments.
Mike the Bubble Man
3:00 pm
Mike the Bubble Man brings magic and science to the stage with this interactive 45-minute indoor show about BUBBLES! Through music, choreography, and comedy, bubbles—in all different shapes and sizes—come alive, sparking imagination and wonder. Exploring science through bubbles creates an entertaining learning environment that introduces shapes, color, and chemistry. A love for bubbles is never outgrown—especially when there's a chance to see the world from inside of one!
JP Honk
5:00 pm to 7:00 pm
*not in KidStage
JP Honk Band doesn't just play for the people; they play among the people and invite them to join the fun! Catch the band as they roam about the event sharing their groovy tunes!
Science Bob
6:00 pm , 7:00 pm
Bob Pflugfelder a science teacher, author, maker, and presenter that knows how to share the world of science like never before. He is a regular guest on Jimmy Kimmel Live!, Live With Kelly and Ryan, The Dr. Oz Show, and Nickelodeon's Nicky, Ricky, Dicky and Dawn. His television appearances also include The Today Show, Hack My Life, Good Morning America, Home & Family and others.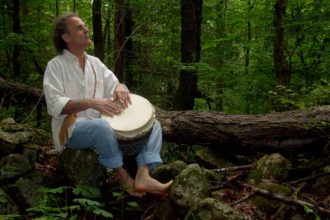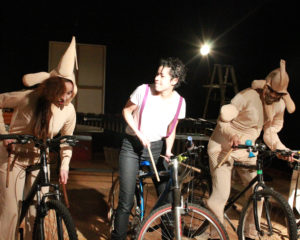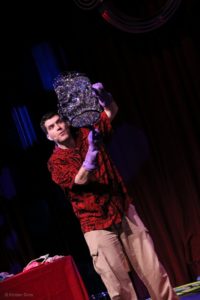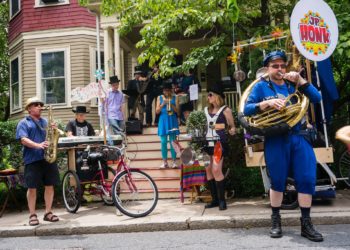 Len Solomon:
11:00 am, 12:00 pm
Len Solomon presents a variety of instruments devised from plumbing parts, coat-hanger wire, and re-purposed salvage materials. Included is a foot-powered pipe organ, a squeeze-ball powered one-man-band, and other examples of Medieval music technology.
Josiah Quincy Orchestra:
2:00 pm
Join the Josiah Quincy Orchestra Program for a musical performance by our elementary school musicians and learn to play a string instrument in our instrument petting zoo following the performance.
JP Honk
3:00 pm to 5:00 pm
JP Honk Band doesn't just play for the people; they play among the people and invite them to join the fun!